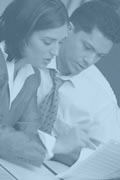 Our clients include corporations and nonprofit organizations, both small and large. The clients listed here are representative examples; for some projects, confidentiality agreements prevent us from providing client information or samples of our work.
Scientific and Technical Writing: DNASTAR Inc, Flynn Creek Bioconsulting, Covance, Lucigen Corp., Sigma Life Sciences, GE Healthcare.
Medical Writing: Aksys Ltd, Genzyme Inc, Ahrens Balwit & Associates, Vasca Inc, BTG Pharmaceuticals (currently Savient Pharmaceuticals), The National Kidney Foundation, The Medical Education Institute.